ETSI 30th Anniversary
1988 - 2018 | 30 years delivering world class standards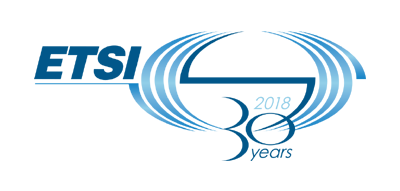 Celebrating 25 years of successful standards-making
ETSI marked its 25th anniversary with a day of celebration on Tuesday 19 March 2013 during the 61st General Assembly (GA).
An audience of over 200 heard invited speakers describe the role played by ETSI in a quarter of a century of standards-making, and predict some of the challenges ahead. The speakers represented the wide range of organizations with which ETSI works – including the European Commission (EC), international partners, manufacturers, operators and National Standards Organizations (NSOs).
Dirk Weiler, ETSI General Assembly Chairman, opened the 25th Anniversary celebration conference.
Antti Peltomäki, Deputy Director General of DG Enterprise: "ETSI cannot afford to stand still. It must look to broaden and deepen its activities. It must especially take account of the ever greater convergence of technologies."
Mr. Peltomäki: "Standardization is vital for Europe and the competitiveness of European Businesses."
Dr. Kyu-Jin Wee, Vice President of the Telecommunications Technology Association (TTA) of Korea: "It is not an overstatement to say that ETSI's GSM standard became the catalyst for the world to recognize the significance of international standards, and global partnership projects such as 3GPP began from such recognition"
Dr. Wee: "ETSI's globally recognized standards, such as GSM™ and DECT™, which were developed to meet the market needs, and other standards such as EMC, accessibility and public safety standards, are clear indication of ETSI's dedication toward developing good standards."
Dr. Hossein Moiin, Chief Technology & Innovation Officer of Nokia Siemens Networks: "We should not underestimate the importance of ETSI as a standardization body nor its achievements. Through ETSI, first GSM and later UMTS™ and LTE™, we are transforming the global economy, we are transforming society."
Dr. Moiin: "We expect a lot from ETSI...This is not a small challenge."
Roberto Minerva, Head of Innovative Architectures at Telecom Italia's Future Centre spoke about the challenges ahead for ETSI in the fast changing technology environment.
Mr. Minerva called on ETSI to support these developments by adopting a user-centric approach and promoting new business models and new ecosystems.
Alain Maloberti, Senior Vice President with Orange Labs Networks, was confident that ETSI would respond to industry's future needs. "Long live ETSI."
Bodgan Topic, President of the Slovenian Institute of Standardization (SIST), was confident of the Institute's future because of its ability to identify breakthroughs, the support of a proactive secretariat, and committed members who recognize that ETSI's success is very much tied up with the future of their own businesses.
Mr. Topic also spoke about ETSI's welcome for small countries, particularly from Eastern Europe.
Dominique Fache, President of the Sophia Antipolis Foundation, offered his congratulations and talked about the science park of Sophia Antipolis where ETSI has been based for the last 25 years.
Dominique Fache, President of the Sophia Antipolis Foundation.
Karl Heinz Rosenbrock, Former ETSI Director General and Lifetime Honorary Director General praised ETSI's continuing ability to adapt to a changing environment.
Mr. Rosenbrock: "The future is built through partnership"
The President of CEN, Friedrich Smaxwill, presenting a gift on behalf of CEN and CENELEC to Dirk Weiler, Chairman of the ETSI General Assembly.
Honorary Senator Pierre Laffitte, founder of the Sophia Antipolis science park, with Dirk Weiler.
Dr. Kyu-Jin Wee, Vice President of the Telecommunications Technology Association (TTA) of Korea, presenting a plaque commemorating the co-operation between ETSI and TTA to Luis Jorge Romero, ETSI Director General.
Interviews with key ETSI officials and members
Karl Heinz Rosenbrock, former ETSI Director General 1990-2006: "When I listen to the acronym ETSI my first thoughts are ETSI, the Excellent Telecoms Standards Institute in Europe.
"We have now established more than 80 partnerships with competent and reliable partners throughout the world. We have established Partnership Projects. I think the creation of the 3GPP was one of our great achievements."
Luis Jorge Romero, ETSI Director General: "Coming to this 25th anniversary and seeing how the growth is coming, how new work is coming, how members appreciate and like the way in which we work, it's very exciting and a great opportunity for all of us to be in here at this very moment."
Jonas Sundborg, Ericsson, ETSI Board Chairman: "I have been part of the creation of 3GPP and in my view this is a tremendous success. This is the flagship of the organisation in the world now leading mobile broadband, and very successful. I see this really as the future. I very much believe that machine to machine can help society, where machines talk to each other."
Dr. Gabrielle Owen, ETSI Technical Committee Chair: "We've been extremely successful in producing a large number of radio standards to compliment the regulatory framework in Europe and we've put a large number of products on the market."
John Fenn, attended first ETSI General Assembly: "When you talk to the kids who have mobile phones they've no idea where it came from. They think it was all magic. They don't realise it was all the hard work, the vision and the creativity of the people and the members of ETSI who made it all possible."
John Long, attended first ETSI General Assembly: "During the work in ETSI we'd eventually managed to produce a specification which can be used all over Europe and that formed the bedrock for the expansion of the internet to the normal public."
Dr. Edward Tiedemann, Qualcomm: "The formation of 3GPP in conjunction with other telecom SDOs from North America, Japan, Korea and later China has led to some amazingly successful standards for the cellular industry, notably WCDMA with its follow-on HSPA and more recently LTE. It is my hope that there will be successful standardization of the M2M service layer which will then lead to reducing fragmentation in the heavily fragmented M2M industry."
Dr. Howard Benn, Motorola Mobility, ETSI Board Member: "ETSI's been very important to me. It's been one of the places where all the technologies that I've been working on have been standardized. It's generated some excellent technologies over the years and the technologies just keep getting better and better. I've been really impressed by the way that people have worked together in the institute to create the things we all take for granted today."
Luis Jorge Romero, ETSI Director General: "Any time we think of Smart it's ICT that comes to our minds, any time we talk about ICT it's ETSI that comes to my mind."