Next Generation Protocols (NGP)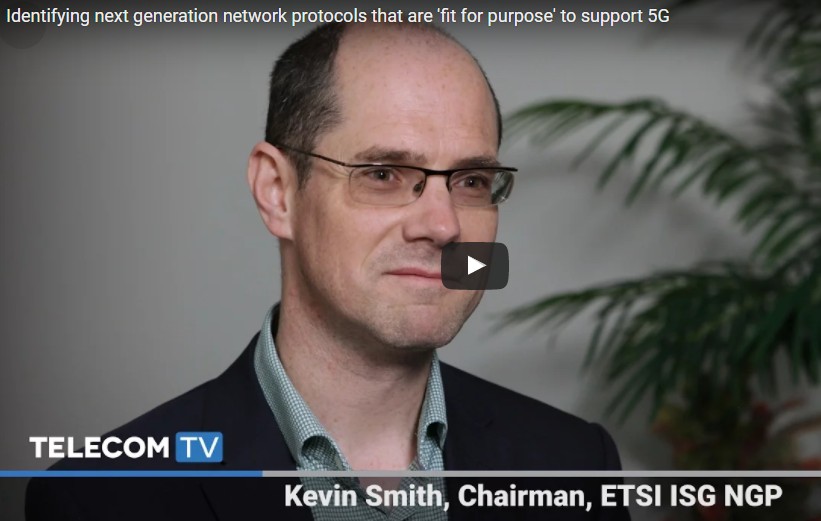 The TCP/IP protocol suite has undoubtedly enabled the evolution of connected computing and many other developments since its invention during the 1970's. Thanks to the development and ubiquity of this protocol stack, we have managed to build an Internet on which we are dependent as a communications tool, an information storage and distribution tool, a marketing channel and a sales and distribution platform, for consumers and for businesses large and small.
However, the industry has reached a point where forward leaps in the technology of the local access networks will not deliver their full potential unless, in parallel, the underlying protocol stacks used in core and access networks evolve. The development of future 5G systems presents a unique opportunity to address this issue, as a sub-optimal protocol architecture can negate the huge performance and capacity improvements planned for the radio access network.
ETSI has created an Industry Specification Group to work on Next Generation Protocols (NGP ISG), looking at evolving communications and networking protocols to provide the scale, security, mobility and ease of deployment required for the connected society of the 21st century.
The NGP ISG will identify the requirements for next generation protocols and network architectures, from all interested user and industry groups. Topics include:
Addressing
Security, Identity, Location, Authorization, Accounting/Auditing and Authentication
Mobility
Requirements from Internet of Things
Requirements from video and content distribution
Requirements from ultra‐low latency use cases from different sectors (i.e. automotive)
Requirements from network operators (e.g. challenges with E2E encrypted content)
Requirements from eCommerce
Requirements for increased energy efficiency within the global ICT sector.
This ISG is seen as a transitional group i.e. a vehicle for the 5G community (and others of interest) to first gather their thoughts and prepare the case for the Internet community's engagement in a complementary and synchronised modernisation effort.
The ISG provides a forum for interested parties to contribute by sharing research and results from trials and developments in such a way that a wider audience can be informed. Other standards bodies will be involved so that parallel and concerted standardization action can take place as a further step in the most appropriate standards groups.
Participation in the Next Generation Protocols Industry Specification Group is open to all ETSI members as well as organizations who are not members, subject to signing ISG Agreements. For information on how to participate please contact ISGsupport@etsi.org.
The following is a list of the latest published ETSI specifications on next generation protocols.
A full list of related standards in the public domain is accessible via the ETSI standards search. Via this interface you can also subscribe for alerts on updates of ETSI standards.
For work in progress see the ETSI Work Programme on the Portal.
| Standard No. | Standard title. |
| --- | --- |
| GR NGP 004 | Next Generation Protocol (NGP); Evolved Architecture for mobility using Identity Oriented Networks |
| GS NGP 002 | Next Generation Protocols (NGP); Self-Organizing Control and Management Planes |
| GS NGP 007 | Next Generation Protocols (NGP); NGP Reference Model |
| GS NGP 001 | Next Generation Protocol (NGP); Scenario Definitions |
| GS NGP 005 | Next Generation Protocol (NGP); Next Generation Protocol Requirements |
| GR NGP 003 | NGP Next Generation Protocol; Packet Routing Technologies |
| GS NGP 001 | Next Generation Protocol (NGP); Scenario Definitions |
News from the NGP Industry Specification Group
Coming soon!
Subscribe to blog
The direct link to refer to this blog is http://www.etsi.org/blog-subscription-information/categories/listings/blog-ngp