ETSI Work Programme
Our standards-making is based on consensus and openness. Our programme of work – the choice of what to standardize, the timing and resourcing of the task and approval of the final drafts – is all decided by our members. So the standards we produce truly respond to the needs of the industries we serve.
The
ETSI Work Programme 2017-2018 provides an overview of our current standardization projects.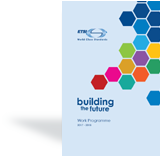 These include the development of technologies which have had a major global impact. But at the same time we are exploring the latest emerging areas to keep in step with – and even ahead of – market demand.
Our work programme is constantly evolving and the most up to date version is publicly available online via our database. It contains full details of all upcoming standards and specifications.
more...
ETSI Cluster Brochures
Download our brochures in Portable Document Format (PDF):
Better Living with ICT
Connecting Things
Content Delivery
Home & Office
Interoperability
Networks
Public Safety
Security
Transportation
Wireless Systems
more...
ETSI Technology Leaflets
Many of the technologies that ETSI standardises are introduced in a series of leaflets which are accessible below.

Greater detail of ETSI's work in each technology can be found in the specific technology pages.
more...