Recommended Events
ETSI recommends the following workshops and conferences on topics close to our standardization activities. Many of these events will have speakers on behalf of ETSI. Special benefits may be available to ETSI Members where we agree to endorse an event. In some cases you may meet with ETSI staff and experts on the ETSI stand.
Borderless Cyber Conference
8-9 September 2016, European Commission HQ, Brussels, Belgium

ETSI is pleased to endorse the Borderless Cyber Conference where CIOs, CISOs and cyber threat intelligence experts from industry, government and CSIRTs will come together at the European Commission to share experiences, strategies, tactics and practices to better protect businesses against cyber threats. Over a two day program delegates will learn to access the latest cyber threat information sharing and gain insight from past experiences of real-world use cases.
Guest speakers are comprised of industry experts who understand the business obstacles inherent in the cyber security domain, with confirmed CISO speakers from Volkswagen, KBC Group, NATO, ADP Worldwide Services, Proximus and Siemens.
CTI experts will also reveal the latest on the STIX, TAXII, CybOX standards initiatives during Borderless Cyber Europe, through live use case studies, implementation demonstrations and in-depth training sessions.
Early-bird discount ends 18 June to save an extra €100. ETSI members are entitled to receive a special rate of €295 before that deadline and €395 after. Register at: https://oasis.evolero.com/eu16/registration/tickets
SDN & OpenFlow World Congress
10-14 October 2016, The Hague, Netherlands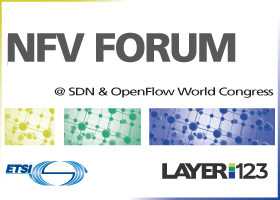 ETSI has partnered again with Layer123 during the next SDN & OpenFlow World Congress, taking place on 10-14 October 2016 in The Hague, Netherlands.
Come and talk to the ETSI team at our info stand and exchange with conference speakers.
ETSI is also organizing the ETSI NGP Forum as well as the ETSI MEC Forum. ETSI members receive a 15% discount on delegate passes (SDN Congress).
You can register or see more details via the event website.
NGMN Industry Conference and Exhibition 2016
12-13 October 2016, Frankfurt, Germany

ETSI is pleased to endorse the 6th NGMN Industry Conference & Exhibition, taking place on 12-13 October 2016!
The event features the announcement of leading, international operators' and vendors' requirements for the future 5G technology platform. This will be complemented by an in-depth presentation of new 5G enabled business opportunities and use-cases introduced by executives and subject-matter experts.
The Industry Conference & Exhibition will bring together key players from the entire mobile ecosystem and offer a unique networking platform throughout the 2 days. With an impressive line-up of top-level speakers talking about high priority topics of our industry, you will be part of a global audience of operators, vendors, innovators, media and analysts.
On top of the NGMN Industry Conference & Exhibition, NGMN will celebrate with you its 10th Anniversary. You can expect an evening filled with entertainment, great food, excellent networking opportunities and special surprises.
For registration or further information on sponsoring, exhibition opportunities, hotel accommodation, pricing etc. please visit the event website or contact office@ngmn.org directly.
BROADBAND WORLD FORUM
18-20 October 2016, London, United Kingdom
Powering the Global Connected Society
Endorsed by ETSI and 3GPP, Broadband World Forum is renowned as one of the world's largest telecoms, media & technology events, where senior executives from fixed, mobile, cable and OTT operators all around the globe, congregate to learn and discuss the future of the broadband industry.
Helping the industry achieve connectivity goals for 2020, the remarkable keynote line up of industry leaders include: Andrus Ansip, Vice-President, European Commission; Ed Vaizey, Minister, Department for Culture, Media and Sport, Gov UK; Bill Morrow, CEO, nbn Australia; Heinz Herren, Group CTO & CIO, Swisscom and Adrian Scrase, CTO, ETSI.
Alongside the C-level keynotes and 300-strong global speaker faculty, BBWF also boasts an interactive exhibition offering visitors a 3 day experience bursting with free content, inspiring interviews, analyst insights and live product demos. Covering all of the industry's priorities, speakers and exhibitors will be showcasing the latest innovations in areas including: Virtualization, Fixed Access, IoT, Smart Home & Connected Cities.
For more details see the event website.
FOKUS FUSECO Forum
3-4 November 2016, Berlin, Germany

ETSI is pleased to endorse the FOKUS FUSECO Forum hosted and organized by Fraunhofer Institute for Open Communication Systems FOKUS in Berlin.
Getting ready for 5G Understanding 5G Application Drivers and Technology Evolution towards Softwarized 5G Networks.
Join more than 250 colleagues and experts from all over the world, including operators, global analysts, standard bodies and manufacturers to learn, share, network and experience everything you need to know about the new trends, developments and impacts of 5G and related Technologies.
Benefit from the Fraunhofer-FOKUS FUSECO Forum tradition of established tutorial and workshop streams, interactive afternoon workshops, international conferences and demonstrations!
This year the FUSECO Forum will be accompanied by 2 additional international events on 5G, all of them held during the same week in Berlin. Don't miss any of them and get ready for 5G!
Registration will be open from June.
For ETSI members there is a 20% discount which is not valid for the other two events of the #Berlin5GWeek: IEEE CSCN and IEEE 5G Summit. The promotion code is: supporter_rebate-20 (to be entered during registration).
For more information, visit the event website.
Smart Mobility Summit 2016
10-11 November 2016, Amsterdam, Netherlands

ETSI is pleased to endorse the Smart Mobility Summit which is a unique event that brings together the full spectrum of stakeholders working in the communications industry today. WiFi, LTE/4G, HetNets, 5G, HALO, ZigBee, and many other technologies, provide the evolving mix of connectivity technologies that will provide the essential links in the networks of tomorrow. Instead of treating each separately, our event brings it all together so that you can see the big picture.
Smart Mobility Summit aims to bring the industry together and provide a platform that encourages genuine debate and the open exchange of ideas in order to drive the connectivity technologies and applications of today… and tomorrow. If you expect to be a part of the communications industry of the future, then Smart Mobility Summit is the only place to be!
For ETSI members there is a 20 % discount to attend the event (discount code SMS16ETSI).
For more information, visit the event website.
Patents in Telecoms - conference 2017
2-3 November 2017, Washington, United States
Co-organized by ETSI, George Washington University, GSMA, ITU, and University College London, 'Patents in Telecoms' is an annual two-day conference which calls on industry experts, standards developers, judges and competition authorities to tackle the most pressing issues in patents and telecoms, from every possible perspective.
Please visit the official event website (to come later) for the latest agenda, speakers and other details.
For further information on any of these events, please contact the ETSI events team, or contact the event organizer directly.
The ETSI events mailing list provides information on events that ETSI is organizing, endorsing or participating in.
Subscribe now to be kept up-to-date!