ETSI Future Mobile Summit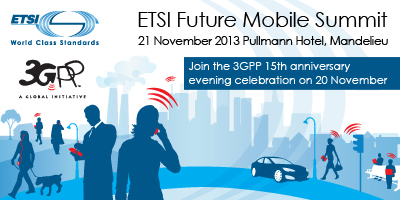 In celebration of the 15th anniversary of the establishment of 3GPP and the 25th anniversary of its foundation, ETSI invites its members and 3GPP partners to the ETSI Future Mobile Summit.
Why attend the summit?
Looking beyond the success of 3GPP's LTE Advanced standards, the summit will hear from key industry projects, research experts, standards leaders and from the European Commission.
The Summit will explore the user requirements driving the development of future 5G mobile communication systems and start to elaborate the standards agenda driven by them.
The speakers of the Summit will discuss various aspects of Future Mobile, including:
Why 5G
Priorities at the regional policy level
The timeframe for standards

Where LTE and LTE-Advanced appear on the 5G road map
In addition to the above themes, speakers will address the potential for new service and application domains, how broadcast will look over 5G as well as considering the impact of virtualization technologies on the mobile industry.
3GPP 15th anniversary celebration
The evening before the summit, on 20 November2013, ETSI will host a networking cocktail to celebrate 3GPP's 15th anniversary. All attendees of the summit and all delegates to the ETSI General Assembly are invited.
09:00

Welcome address
Luis Jorge Romero, ETSI Director General
Chairman: Dirk Weiler, ETSI General Assembly Chairman
09:10
Keynote speech: 5G, the way forward!
Mario Campolargo, Director, Net Futures, DG Connect, European Commission
09:35
Who needs 5G?
Hans D. Schotten, University of Kaiserslautern
10:00
Why 5G?
Rahim Tafazolli, Director of CCSR and 5GIC, The university of Surrey
10:25
Coffee break
Chairman: Balazs Bertenyi, 3GPP TSG SA Chairman
10:50
The 5G mobile and wireless communications system
Afif Osseiran, Project Coordinator of METIS
11:15
Next generation wireless for a cognitive & energy-efficient future
Nigel Jefferies, Wireless World Research Forum Chairman
11:40
3GPP Radio Access Network : Rel-12 and beyond
Dino Flore, 3GPP RAN Chairman
12:05
Spectrum for 5G, a big deal?
Jens Zander, KTH, Royal Institute of Technology

12:30
Lunch
Chairman: Jonas Sundborg, ETSI Board Chairman
13:45
Opportunities for TV services over future mobile networks
Nick Wells, Chairman Technical Module, DVB
14:10
3GPP core network & services evolution
Atle Monrad, 3GPP CT Chairman
14:35
The impact of NFV on future mobile
Uwe Janssen, Deutsche Telekom, lead delegate to Network Functions Virtualisation ISG
15:00
Coffee
Chairman: Adrian Scrase, ETSI CTO, Head of 3GPP MCC
15:30
The tactile internet - Driving 5G
Gerhard Fettweis, Technical University of Dresden
15:55
PANEL: The role of standards for future mobile

Balazs Bertenyi, 3GPP TSG SA Chairman
Gerhard Fettweis, Technical University of Dresden
Nigel Jefferies, Wireless World Research Forum Chairman
Luis Jorge Romero, ETSI Director General
16:40
Conference conclusions
Adrian Scrase, ETSI CTO, Head of 3GPP MCC
16:45

Conference ends

Balazs Bertenyi, 3GPP TSG SA Chairman
Mr Balazs Bertenyi received an M.Sc. Degree in Computer Science and Telecommunications in 1998 at the Technical University of Budapest.
Balazs joined Nokia in 1998 and started to work on circuit switched mobile switching. In 1999 he joined the research group on IP Multimedia and has led various strategic projects for Nokia and then for Nokia Siemens Networks on Core Network architecture and standards.
He started working in 3GPP standardization in 2001, leading the Nokia and later the Nokia Siemens Networks delegation in the architecture group (SA2) of 3GPP
In 2007 he was elected as Chairman of the Architecture Working Group (SA2) in 3GPP, and served 2 consecutive terms until 2011.
In 2011 he was elected as Chairman of 3GPP Technical Specification Group Services and System Aspects (TSG-SA), and has been serving as Chairman of this key standards group since then.
Mário Campolargo, European Commission, DG CONNECT
Mário Campolargo is Director for "Net Futures" in DG CONNECT responsible for Research and Innovation on what lies beyond the current Internet architecture, software and services and the EU-Strategy for the Cloud. Previously he has been Director for "Emerging Technologies and Infrastructures" in DG INFSO in charge of Future and Emerging Technologies, ICT based infrastructures for science and ICT trust and security, experimental facilities and experimentally driven research for Future Internet. Before joining the European Commission in 1990, he worked for 12 years in the R&D Centre of Portugal Telecom as a researcher and manager. He has a Degree in Electrical Engineering (University of Coimbra), a Master of Science in Computing Science (Imperial College London), a Post graduate in Management (Solvay Business School Brussels) and a European Studies Diploma (Université Catholique de Louvain-la-Neuve).

Gerhard Fettweis, Technical University of Dresden
Gerhard Fettweis earned his Ph.D. under H. Meyr's supervision from RWTH Aachen in 1990. After one year at IBM Research in San Jose, CA he moved to TCSI Inc., Berkeley, CA. Since 1994 he is Vodafone Chair Professor at TU Dresden, Germany, with currently 20 companies from Asia/Europe/US sponsoring his research on wireless transmission and chip design. He coordinates 2 DFG centers at TU Dresden, cfAED and HAEC.
Gerhard is IEEE Fellow, member of acatech, has an honorary doctorate from TU Tampere, and has received multiple awards. In Dresden he has spun-out ten start-ups, and setup funded projects of more than EUR 1/3 billion volume. He has helped organizing IEEE conferences, most notably as TPC Chair of IEEE ICC 2009, IEEE TTM 2012, and General Chair of VTC Spring 2013. He remains active within IEEE.

Dino Flore, 3GPP RAN Chairman
Dino Flore received a M.S. degree in Electrical Engineering from the Politecnico di Torino, Italy and a M.S. degree in Mobile Communications from the EURECOM Institute, France, in 2000.
From 2001 to 2003 he worked at Arraycomm as Senior Research Engineer on smart antenna technology. In 2003 Dino joined Qualcomm where he is currently serving as a Director of Technical Standards, with a leadership role in the area of 3GPP RAN standardization.
Since 2005 Dino has contributed to the design, development and specification of 3G and LTE systems through active participation in 3GPP RAN. From August 2009 to May 2013 he has served as Chairman of 3GPP RAN WG3, the Working Group responsible for the access network interfaces. In March 2013 he was elected Chairman of 3GPP RAN, the Technical Specification Group with overall responsibility for the radio interface and access network for both 3G and LTE.


Uwe Janssen, Deutsche Telekom, lead delegate to Network Functions Virtualisation ISG
Uwe Janssen, born 1959, is Vice President Innovation and Research at Deutsche Telekom Group Technology since January 2013, following an assignment as SVP Fix & Mobile Engineering. In this role he is responsible to manage the portfolio of mid to long term technology projects at DT, including the Network Function Virtualization program.
Prior to this role, Uwe Janssen held over 20 years various positions in DT in the Telecommunication and IT Engineering fields, starting with GSM standardization work in 1989 and subsequently supporting the build of DT's D1 GSM network.
Before joining DT, Uwe Janssen has worked 4 years at Phillips Research in Hamburg, Germany, where he contributed to Research projects on Advanced Communication in European (RACE). He studied Computer Science in Bonn and Hamburg, and holds a degree as Diplom-Informatiker of Hamburg University.

Prof. Nigel Jefferies, Wireless World Research Forum Chairman
Nigel Jefferies is a senior standards manager with Huawei Technologies and Chairman of the Wireless World Research Forum, a global partnership between industry and academia to develop a research agenda for mobile communications. Previously he was Head of Academic Relationships within Vodafone Group Research & Development and a Principal Mathematician at Racal Research Ltd. In the past he led the European-funded IST project SHAMAN, which studied the security of future mobile systems, and ran the Secure Applications Steering Group for Mobile VCE. Other collaborative research projects on various aspects of security for mobile communications include 3GS3 in the UK-funded LINK programme, and ASPeCT and USECA in the European ACTS programme. His research interests include cryptography, security of systems and applications of mathematics to telecommunications. He received a PhD in functional analysis from Goldsmith's College, London, and an MA in mathematics from the Queen's College, Oxford, and is a visiting professor at Kingston University. He is a Fellow of the Institute of Mathematics and its Applications and a Chartered Mathematician.
Atle Monrad, Ericsson, 3GPP TSG CT Chairman
Atle Monrad has been working for Ericsson with mobile telephony systems and cellular standards since February 1988. Since 2009, Atle has worked as part of Ericsson's Group Function Technology – Standardization & Technical Regulation with a key role in Ericsson group wide standardization activities. Atle has been an active participant in 3GPP since 2001. He has served as Chairman of 3GPP TSG CT since March 2011 and was working group Chairman in 3GPP CT1 from 2005 – 2011.
Atle Monrad received a B.Sc. Degree in Electrical Engineering in 1986 and an M.Sc. Degree in Computer Science in 2001. Atle has been organized in various departments within Ericsson, in many cases as a link between standardization and implementation. He has held various positions as technical leader and standards delegate.

Atif Osseiran, METIS Project
Dr. Afif Osseiran received a DEA (B.Sc.E.E) degree in Electrical Engineering from Université de Rennes I and INSA Rennes in 1997, and a M.A.Sc. degree in Electrical and Communication Engineering from École Polytechnique de Montreal, Canada, in 1999. In 2006, he defended successfully his Ph.D thesis at the Royal Institute of Technology (KTH), Stockholm, Sweden. Since 1999 he has been with Ericsson, Sweden. From April 2008 to June 2010, he was the technical manager of the Eureka Celtic project WINNER+. Since 2011, he is responsible to coordinate Beyond 2020 mobile and wireless communications activities toward EU research programs. He is currently the coordinator of the EU project METIS. His research interests include many aspects of wireless communications with a special emphasis on advanced antenna systems, on relaying, on radio resource management, network coding and cooperative communications. Dr. Osseiran is listed in the Who's Who in the World, the Who's Who in Science & Engineering. Dr. Osseiran has published over 50 technical papers in international journals and conferences. He has co-authored two books on IMT-Advanced: "Radio Technologies and Concepts for IMT-Advanced" and "Mobile and Wireless Communications for IMT-Advanced and Beyond", published in 2009 and 2011, respectively with John Wiley & Sons. Dr. Osseiran is a senior member of IEEE.

Luis Jorge Romero, ETSI Director General
Luis Jorge Romero, Director General of ETSI, has more than 20-years experience in the telecommunications sector. At ETSI he has initiated a global standardization partnership for Machine to Machine communications, and has driven the implementation of the ETSI Long Term Strategy, an ambitious plan to prepare the institute for the future. Previously he has held diverse Director positions in Spain, Morocco and Mexico, predominantly with Telefonica. As Global Director for International Roaming and Standards, and Director of Innovation and Standards, he oversaw Telefonica's participation in global standardization activities, and participated directly in the work of the Next Generation Mobile Networks (NGMN) Alliance and in the GSM Association (GSMA). Before joining ETSI in July 2011, he held the position of Director General of Innosoft and was also a partner and board member of Madrid-based Innology Ventures.

Hans Schotten,University of Kaiserslautern
Prof. Hans Schotten is Scientific Director and member of the Management Board of the German Research Centre for Artificial Intelligence (DFKI GmbH), full professor and head of the Institute for Wireless Communications and Navigation at the University of Kaiserslautern, and dean of the department of Electrical and Computer Engineering.In 1997, he received a Ph.D. in Electrical Engineering from the Aachen University of Technology RWTH, Germany. He held positions as senior researcher, project manager, and head of research groups at the Aachen University of Technology, Ericsson Corporate Research, and Qualcomm Corporate R&D. At Qualcomm he has also been a Director for Technical Standards and coordinator of Qualcomm's activities in European research programs.Prof. Schotten published over 200 technical papers, filed 15 patents, received several awards, served as TPC co-chair and TPC member of many international conferences, and consultant for research organizations, governmental bodies, and ICT industry.
Adrian Scrase, ETSI CTO
Adrian Scrase played a central role in the creation of the "3rd Generation Partnership Project" (3GPP) and is responsible for the operations of the 3GPP Project Co-ordination Group. He heads 3GPPs' Mobile Competence Centre (MCC) which is an International team of 20 experts who provide comprehensive support to the Project.
He was also principally involved in the formation of the recently created "oneM2M" Partnership Project and oversees ETSI's support to that initiative.
He is CTO within ETSI with operational responsibility for all of ETSI's standards production activities. He has more than 30 years experience in the telecommunications field, which includes 25 years of experience in standardization.

Jonas Sundborg, ETSI Board Chairman
Jonas SUNDBORG has over 25 years experience from the telecommunications industry. He received his Master of Science (Dipl. Ing.) in Telecommunications (with honor) from the Helsinki University of Technology, Finland, 1993.
Currently he is CTO, and from 1 November also the CEO, of Ålands Telefonandelslag, and Executive Board Member of Ålands Telekommunikation Ab – both operators in Finland .
From 1986 to end of May 2013 he has been working with the Ericsson Group as Director of Standardization and Technical Regulation at the Ericsson Group Headquarter with responsibility for the Ericsson internal and external Standardization and Technical Regulation activities.
Since 2005, he is a member of the ETSI Board (European Telecommunication Standards Institute) and is currently the Chairman of the Board. Before that he has been Vice Chairman of the Board and Chairman of the Operational Co-ordination Group (OCG).
He has been Chairman of the Information Technology Standardization (ITS) - a Swedish national standardization organization. He has also been Vice Chairman of the Swedish Standardization Association.

Rahim Tafazolli, Director of CCSR and 5GIC, The university of Surrey
Rahim Tafazolli is the Director of the Centre for Communications Systems Research (CCSR) and 5G Innovation Centre (5GIC), Faculty of Engineering and Physical Sciences, The University of Surrey in the UK.
He has published more than 500 research papers in refereed journals, international conferences and as invited speaker. He is the editor of two books on "Technologies for Wireless Future" published by Wiley's Vol.1 in 2004 and Vol.2 2006.
Professor Tafazolli is currently chairman of EU Net!Works Technology Platform Expert Group, board member of the UK Future Internet Strategy Group (UK-FISG). He was appointed as Fellow of WWRF (Wireless World Research Forum) in April 2011, in recognition of his personal contribution to the wireless world. As well as heading one of Europe's leading research groups."

Dirk Weiler, ETSI General Assembly Chairman
Dirk Weiler is Chairman of the CEN-CENELEC-ETSI Joint Presidents' Group, the ETSI General Assembly and the ETSI IPR Special Committee, Vice Chairman of the German BITKOM Working Group Standardization, Member of the DIN Presidential Committee FOKUS.ICT and the ETSI representative to the European Commission's ICT Multi-Stakeholder Platform.
He is Head of Standards Management & Horizontal in Nokia Solutions and Networks, responsible for standardization policy, membership portfolio, type approval and environmental standardization.
He regularly appears as speaker or chairman in conferences and events about standardization, IPR and the relationship of both.
Until 2006 he held various management positions in the areas of development, research, intellectual property, standardization and marketing in Siemens. Since 1988 he has been working actively in standardization on technical as well as board level in ETSI, ITU, OMA and various other bodies.
He joined Siemens in 1985, starting in the development of the Mobile Communication System C450, after his graduation in Physics from the University of Cologne and the Institute of Nuclear research in Jülich, Germany.

Nick Wells, DVB
Dr. Nick Wells is the chair of the DVB Technical Module.
He studied physics at Cambridge University and then obtained a Ph.D from Sussex University for studies of radio wave propagation in conducting gases.
Since 1977 he has worked at BBC Research and Development in a variety of fields including image compression and digital terrestrial broadcasting systems. He has played a leading role in several large European collaborative projects and industry forums related to television production and broadcasting. He chaired the DVB-T2 technical working group which developed the DVB-T2 terrestrial transmission standard. He previously served as vice-chair of the DVB Technical Module.

Jens Zander, KTH Royal Institute of Technology
Jens Zanders is a full professor, co-founder and Scientific Director of [email protected] at the KTH Royal Institute of Technology (Stockholm, Sweden). He was project manager of the FP7 QUASAR project assessing the technical and commercial availability of spectrum for secondary ("cognitive radio") use. Dr Zander is on the board of directors of the Swedish National Post and Telecom Agency (PTS) and a member of the Royal Academy of Engineering Sciences. He was the chairman of the IEEE VT/COM Swedish Chapter (2001-2005) and TPC Chair of the IEEE Vehicular Technology Conferences in 1994 and 2004, as well as General Chair for Crowncom 2012. Dr Zander is associate editor of the ACM Wireless Networks Journal. His current research interests include architectures, resource and flexible spectrum management regimes as well as economic models for future wireless infrastructures.
Summit photos
3GPP 15th Anniversary event