ETSI Seminar
The Seminar, a regular service provided free to our Members, is aimed at improving the effectiveness of standards-making in ETSI by developing special skills in those people actively involved in our work.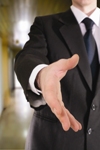 The ETSI Seminar takes the form of a workshop where various aspects of the standards-making is examined in a very practical way.
Although designed primarily for newcomers to the Institute, the fact that ETSI is constantly evolving means that even those individuals with an extensive experience of the Institute and its work find it beneficial to attend.
The work of the 3rd Generation Partnership Project (3GPP™) is also covered.
The ETSI Seminar is an important step in the orientation programme for new members. It facilitates their active participation in ETSI or 3GPP - a must if your organization has just joined ETSI. It also is an opportunity to meet key personnel in the ETSI Secretariat.
As well as describing the structure and organization of the Institute and the partnership projects, the seminar provides a detailed look at ETSI's On-Line services and other tools for electronic working, which have dramatically improved the efficiency of the standards-making process. It also examines our range of services and responsibilities, which extends well beyond just the production of standards.
Detailed Programme
Thursday Start time: 9am. End time: 5.30pm
Friday Start Time : 9am. End time: 1:00pm.
Organization of standards-making
The ETSI and 3GPP structures
Management of the standardization process
Who does what in the standards-making process?
Creating and maintaining ETSI standards
Application of drafting rules
Voting procedures
ETSI Documentation Service
Organization and management of a meeting
Legal considerations
Directives and Regulations
Producing a good standard
Document production: supported software products
ETSI On-Line services
Other tools for electronic working
ETSI's role in testing and interoperability
Who should attend?
The Seminar is particularly relevant to those members who hold some kind of office in a Technical Committee, Industry Specification Group, Working Group or Specialist Task Force, as well as people active within their own companies on standards-related matters, such as Members' Voting Contacts.

But in fact, anyone involved in ETSI and standards-making in any way will benefit from attending!