Workshop on Alternative Dispute Resolutions for FRAND Disputes
ETSI in partnership with the WIPO Arbitration and Mediation Center, a neutral, international and non for profit dispute resolution provider, are pleased to invite you to a workshop on Alternative Dispute Resolution that will take place at ETSI's Headquarters on 4 June 2015.
All the disputes in connection with standardized products within the ICT world popping up here and there are at a crossroad between intellectual property rights, competition law and commercial law.
Most of the disputes have been settled in different courts over the world. However, alternative dispute resolution (ADR) procedures such as mediation and/or arbitration can be used to resolve such disputes in a time and cost effective manner.
ADR, is mostly used for "classical commercial" disputes and is not necessarily well known or used in the ICT licensing world.
Goals of the workshop
The goal of this workshop is to see how a Fair Reasonable And Non Discriminatory (FRAND) dispute can be resolved using ADR by going through an imaginary but realistic case, highlighting the positive aspects but also the drawbacks of such practices.
Target audience
This event is of particular interest to :
Lawyers (Patent Attorneys and Litigators),
Licensing managers
Technical Experts and Financial Officers involved in the licensing activity,
Regulators and Policy Makers at national and international level,
CTO-level Managers and Technical Management.
09:00
Opening
Christian Loyau, ETSI
Heike Wollgast, WIPO Arbitration and Mediation Center
09:10

Overview: WIPO Arbitration and Mediation
Heike Wollgast and David Perkins, WIPO Mediator and Arbitrator, London


General principles of mediation and arbitration; advantages and limitations
2014 WIPO Mediation and (Expedited) Arbitration Rules
WIPO Model Submission Agreements for FRAND disputes and special list of neutrals
Q&A

09:30
Introduction of FRAND case scenario
Christian Loyau, ETSI
09:40

Strategic considerations by the parties
Garreth Wong, Bird & Bird, London ("Party A") and Nadine Herrmann, Quinn Emanuel, Hamburg/Brussels ("Party B")

Court litigation vs. mediation/arbitration
Scope of dispute submitted to mediation/arbitration
Remedies
Q&A

10:00
WIPO Mediation (I)

1. Selection and appointment of the mediator
Heike Wollgast, WIPO

2. Preparatory organization of the mediation
David Perkins, Nadine Herrmann and Garreth Wong

Preparing the mediation process with the mediator
Preparing the client for the mediation meeting
Exchange of documents
Q&A

11:00
Coffee & Networking Break
11:15

WIPO Mediation (II)

3. The conduct of the mediation meeting and the role of the different actors
David Perkins, Nadine Herrmann, Garreth Wong and Mark Bezant, FTI Consulting, London

The mediator's role and techniques; the role of the expert
The lawyers' and parties' role (party statements; participation in negotiation; sharing business interests; cooperation in good faith);
Q&A

4. Concluding the mediation
David Perkins, Nadine Herrmann and Garreth Wong

Exploring possible alternative solutions
Partial settlement (terms of agreement; enforceability; amendment of arbitration submission agreement)
Q&A

12:30
Sandwich lunch
14:00

WIPO Arbitration

1. Selection and appointment of the tribunal
Heike Wollgast, WIPO

2. Preparatory organization of the arbitration
Trevor Cook, Wilmer Hale, NY, Nadine Herrmann and Garreth Wong

3. The conduct of the proceedings
Trevor Cook, Mark Bezant, Nadine Herrmann and Garreth Wong

Written submissions
Evidence
Role of the tribunal appointed expert
Hearing
Post hearing submissions
Q&A

4. Arbitral award
Trevor Cook and Mark Bezant

Drafting the award and informal scrutiny
Remedies
Costs
Enforcement
Q&A

16:30
Closing
Christian Loyau, ETSI

Christian Loyau, ETSI
christian Loyau is graduated from the University of Paris in commercial and IP law.
After 5 years practicing in law firm in Denmark and France, Christian was an in-house lawyer for Digital Equipment Corporation, and Cap Gemini in France.
He served for 12 years as Legal Director for International Affairs for the French telecommunications company Matra Communication and was involved in the IPR group of ETSI from 1993 to 1996.
He then served as General Counsel and Secretary of the Board of the French IT company Bull for 14 years.
Christian is now Director for Legal Affairs of European Telecommunications Standards Institute (ETSI).

Mark Bezant, FTI
Mark Bezant is a Senior Managing Director in FTI's Economic and Financial Consulting practice, specialising in contentious and non-contentious intellectual property matters. He was formerly a partner in Deloitte and Arthur Andersen. Mark is especially interested in the interface of economic, legal and accounting principles as regards intellectual property rights, and has published and presented extensively.
Mark has been appointed as an expert witness or independent expert on around 100 occasions to assess damages, valuation and accounting issues in intellectual property and licensing disputes. He has acted in litigation and arbitration matters globally relating to FRAND licensing, infringement actions, compulsory licensing, passing off claims, IP valuation and licensing disputes. His experience covers patents, confidential information, trade marks, and copyright.
Mark is one of the leading experts active in commercial arbitration worldwide identified by The International Who's Who of Commercial Arbitration 2011 - 2015. He has given oral evidence on 37 occasions.

Trevor Cook, Partner, Wilmer Cutler Pickering Hale and Dorr LLP
Solicitor, England & Wales; Legal Consultant, New York trevor.cook@wilmerhale.com
Trevor Cook is an English solicitor with over 35 years' experience in the field of intellectual property, and notably global patent litigation. At the beginning of 2014 Mr. Cook joined WilmerHale in New York from Bird & Bird LLP in London, where he had been a partner since 1981. He is Chairman of the British Copyright Council and was for several years president of the UK group of the International Association for the Protection of Intellectual Property (AIPPI). He is on the World Intellectual Property Organisation (WIPO) List of Arbitrators.
In addition to numerous articles and book chapters Mr. Cook has authored the following books - A User's Guide to Patents (Butterworths 2002, Tottel 2007, Bloomsbury 2011, 2015 (in press)), EU Intellectual Property Law (Oxford 2010), Pharmaceuticals Biotechnology and the Law (Macmillan 1991, LexisNexis Butterworths 2009, 2015 (in press)), The Protection of Regulatory Data in the Pharmaceutical and Other Sectors (Sweet & Maxwell 2000), and A European Perspective as to the Extent to Which Experimental Use, and Certain Other, Defences to Patent Infringement, Apply to Differing Types of Research (Intellectual Property Institute 2006). He is a co-author of (with Audrey Horton) Practical Intellectual Property Precedents (Sweet & Maxwell 1998 to date), (with Alejandro Garcia) International Intellectual Property Arbitration (Kluwer 2010) and (with Lorna Brazell) The Copyright Directive (Jordans 2004). He is one of the General Editors of The Modern Law of Patents (LexisNexis Butterworths 2005, 2009, 2014). He contributes to the Chartered Institute of Patent Agents European Patents Handbook (Sweet & Maxwell) and to Vaughan & Robertson's Law of the European Union (Oxford University Press 2010) and has contributed to recent editions of the Chartered Institute of Patent Agents Guide to the Patents Act 1977 (Sweet & Maxwell 1990, 1995, 2001, 2009, 2011).

Nadine Hermann, Quinn Emanuel
Dr. Nadine Herrmann is the Managing Partner of Quinn Emanuel's Hamburg and Brussels offices. Nadine is a German qualified attorney (Rechtsanwältin), a solicitor (England and Wales) and a member of the Brussels Bar. She holds a PhD in law ("Dr. iur") and a Masters Degree from The University of Sydney. She has practiced in Germany, the UK and the US. Before joining Quinn Emanuel in 2012, Dr. Herrmann was a partner at Allen & Overy LLP for three years. In 2010, she was recognized as having one of the "25 leading careers" (Karriere des Jahres) in Germany by Handelsblatt.
Nadine specializes in antitrust, intellectual property and other regulatory and commercial litigation at trial and appellate level. She has broad experience in litigation and investigations, representing her clients before courts and regulators (including the European Commission, the German Federal Cartel Office and the German Financial Supervisory Authority). Her competition expertise covers all aspects of German and European competition law including abuse of dominance cases. Dr. Herrmann has particular expertise in cases involving the intersection of IP and competition, such as compulsory licenses and their enforcement, European standardization and other behavioral cases. The author of a textbook on EU competition and German unfair competition law, Dr. Herrmann has been internationally recognized as an expert litigator.

David Perkins
1968-1972: Theodore Goddard & Co (Articled Clerk and Solicitor)
1972 -2003: Clifford-Turner/ Clifford Chance (Partner 1975)
2003-2009: Milbank Tweed Hadley & McCloy (Partner)
2010-2013: Arnold & Porter (Partner)
At Clifford-Turner/Clifford Chance David established and headed its IP Litigation Practise in Europe and Hong Kong. He is a past member of many international IP Associations, including the UK Government's former Intellectual Property Advisory Committee (IPAC) and a Council Member of the Common Law Institute of Intellectual Property. He currently contnues as a Member of the European Patent Lawyers Association (EPLA) and as an Executive Committee Member of UNION-IP.
He retired from Arnold & Porter in December,2013 to focus full time as an Arbitrator and Mediator. He is a JAMS Neutral and an arbitrator/mediator on the Panels of WIPO (World Intellectual Property Organisation, Geneva); AAA/ICDR (American Arbitration Association/ International Center for Dispute Resolution); SIAC/SIMC (Singapore International Arbitration and Mediation Centres); KLRCA (Kuala Lumpur Regional Centre for Arbitration);; NAF(National Arbitration Forum);Chairman of an ICC Dispute Resolution Board; and a serving arbitrator in a dispute under LCIA (London Court of International Arbitration) Rules; and for IFTA (The Independent Film & Television Alliance, Los Angeles)."

Heike Wollgast, WIPO Arbtitration and Mediation Center
Heike Wollgast is a Senior Legal Officer in the WIPO Arbitration and Mediation Center. Her work focuses on the management of WIPO arbitration and mediation cases and the legal development of the WIPO ADR framework. Before joining the WIPO Center in 2011, Heike specialized in IP enforcement law and policy in WIPO's Enforcement Division and, prior to that, practiced IP and commercial law in the Berlin office of Andersen Luther. She studied law in Germany and Switzerland and holds a Ph.D. in European Community Law from the University of Cologne.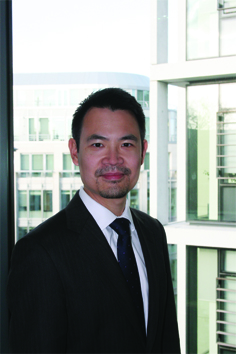 Garreth Wong, Bird & Bird
"Highly rated" for his arbitration work (Legal 500 2014), Garreth specialises in high-value, complex international arbitration.
Having practised as a barrister in London, Garreth regularly acts as lead advocate at hearings. He has significant experience representing and advising clients under various arbitration rules (including ICC, ICSID, LCIA, SIAC, UNCITRAL and WIPO). He has represented clients in many arbitrations internationally including Africa, Europe, North America and China.
His clients include telecommunications multinationals, oil and gas majors, pharmaceutical and technology companies. Garreth's experience includes disputes relating to licensing and FRAND, oil/gas, renewable energy, joint venture and shareholder agreements.
A recent highlight includes representing a telecommunications multinational in an arbitration regarding a licensing dispute, involving claims totalling several billion US dollars.
In addition to his counsel work, Garreth also sits as an arbitrator and sits on various international commercial arbitrations.
Garreth previously practised at Freshfields Bruckhaus Deringer LLP, and at Matrix Chambers, London.