ETSI Summit: Releasing the flow - Data protection and privacy in a data-driven economy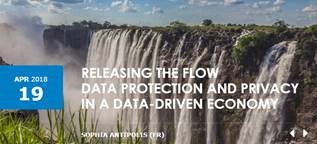 Data is said to be the most valuable asset in the digital economy. Europe adopts an ambitious set of rules to deal with the circulation and protection of data, both private and business related.
Get a grasp of the policy and legislative landscape around data flow in EU and beyond. Discuss the interplay of data with regulation, legislation, technologies and standards. Hear viewpoints and debate with experts coming from different points of the ecosystem. Come to the ETSI Summit on 19 April 2018.
The interaction between policy, legislation and technology is not new, but the dynamics between data flow and data protection give rise to new tensions:
A Data economy "characterized by an ecosystem of different types of market players collaborating to ensure that data is accessible and usable" is the conceptual foundation of EU policy relating to data flow. It addresses both consumer markets (apps economy) and enterprise markets (finance, transports, energy, etc.).
The Protection of personal data: the development of a data economy pre-supposes that citizens trust their online communications and transactions do not equate to handing over their life to economic operators (be they public or private entities). Hence the central role of the General Data Protection Regulation (GDPR) which will enter into force in May 2018.
e-Privacy, which aims at ensuring the respect for private life, confidentiality of communications, protection of personal data in the electronic communications sector, and guarantying the free movement of electronic communications data, equipment and services in the EU.
Of course, definitions and standards alone will not solve those tensions. However they are part of the equation of getting policies that work. These depend on the generation of adequate legislation, technical definitions, soft law and smart interactions between them.
By joining the one day Summit ETSI is staging on 19 April 2018, you will hear and discuss:
The scenery: The European roadmap for data flow, data protection and privacy.
The players: What will the EU legislation mean for market players operating in Europe and how do we ensure global collaboration? How will standards support businesses and regulators in the implementation of policy, legislative and industrial agendas?
The machinery: How will legislation and standards interact? Standards, certification, codes of conduct, best practices- how will this landscape be shaped by the EU legislation?
Save the date in your calendar and register. Participation is open to all and free of charge upon registration.
All sessions will be built around a small number of presentations, followed by a moderated panel discussion to spark exchange of views between speakers and with the audience.
08:00
Check-in/registration opens
08:45
Welcome Address
SESSION 1: Link the Dots
Building on a European data economy, e-privacy, free flow of non-personal data, GDPR…with a series of policy and legislative initiatives – the EU intends to create "an ecosystem of different types of market players collaborating to ensure that data is accessible and usable" and simultaneously "set the global standard for data protection" (Commissioner Jourová).

This session will sketch out the policy and regulatory landscape for data in Europe, explore how the different EU initiatives correlate and interact, and consider how global markets accommodate region-specific regulations.
Coffee
SESSION 2: The Data Eldorado

Data is seen as the gold standard of the digital economy, generated ad infinitum by each and every move online, meshed, mined and enriched throughout its travels in cyberspace.

In this session, the following questions will be debated:

What exactly does the voyage of a data set look like?
Are the EU initiatives suitable framing the gold rush so that not only shovel sellers get rich but that the "ecosystem of different types of market players collaborate" -and derive value?
How do we make sure that privacy will not disappear in the data economy?

Lunch
SESSION 3: Data as a Global Business

Europe has ambitions to "set the global standard for data protection", yet data collection, storage, transfer and utilization is mostly a global business.

How do EU trade partners and multinational companies work with domestic legislation and business practice alongside the new EU regulatory rules for data?
For Europe, what is at stake with international data transfers in Free Trade Agreements and possible restrictions for countries whose privacy rules do not meet European ideas?

Speakers from different regions will debate how data protection is engineered in their respective regions/countries and how they will adjust to the EU's new rules in order to continue doing business with Europe's 450 million consumers.

Coffee
SESSION 4: Standards to Help Navigate

Standards, codes of conduct, certification: standards for data flow and data protection will come in many different flavours.

How can standards help us to comply with EU data legislation?
Which ones will be needed the most - how do we ensure that we do not overkill?
How to ensure smooth collaboration between standards-makers worldwide?
How will the standards landscape shape (and be shaped) by the EU legislation?

Speakers will discuss what standards the data market needs in the context of EU data protection legislation, what is desirable, achievable, and explore possible ways forward.
SUMMARY and HIGHLIGHTS OF THE DAY
17:00
Closing of the Summit