Intelligent Transport Systems
Intelligent Transport Systems (ITS) include telematics and all types of communications in vehicles, between vehicles (e.g. car-to-car), and between vehicles and fixed locations (e.g. car-to-infrastructure). However, ITS are not restricted to Road Transport - they also include the use of information and communication technologies (ICT) for rail, water and air transport, including navigation systems.
In general, the various types of ITS rely on radio services for communication and use specialized technologies.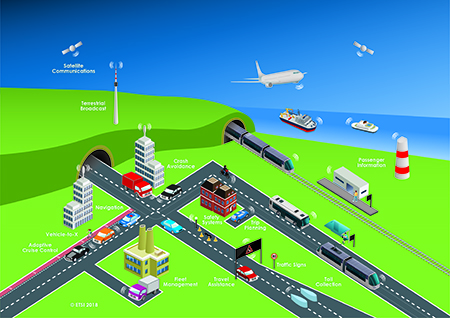 A high resolution version (848KB) of the above image is available here.
Automotive systems
Currently, there are currently the following projects related to automotive ITS:
Dedicated Short-Range Communications (DSRC) provide communications between the vehicle and the roadside in specific locations (for example toll plazas). Applications such as Electronic Fee Collection (EFC) will operate over DSRC.
Wireless Communications Systems dedicated to Intelligent Transport Systems and Road Transport and Traffic Telematics will provide network connectivity to vehicles and interconnect them. Using radio bands requires adequate Harmonised Standards which are under development for the bands 5 GHz and 63 GHz.
Continuous Air interface Long and Medium range (CALM) provides continuous communications between a vehicle and the roadside using a variety of communication media, including cellular, 5 GHz, 63 GHz and infra-red links. CALM will provide a range of applications, including vehicle safety and information, as well as entertainment for driver and passengers.
These technological projects form part of wider initiatives on matters such as road safety (for example the European Commission's eSafety initiative) and road tolling.
Railway systems
The railways industries have agreed to use GSM for the signalling on high speed railways, as well as for conventional railways when interoperating across national boarders. Within Europe, interoperability of high-speed railways is a regulatory requirement, addressed by the European Commission's Directive 96/48/EC.
Aeronautical and maritime systems
Aeronautical applications extend from professional services, such as air traffic control systems, to services for passengers, such as onboard telephony, and ETSI is responsible for specifying many of them.
Maritime applications support routine maritime operations, including navigation, as well as safety purposes. ETSI is responsible for producing a range of technical standards and reports concerning radio equipment and system for maritime and inland waterways use.
Get the latest information on ETSI's standardization activities here!
News: April 2013
Results from ETSI TC ITS and WG meetings 8-12 April 2013
The April meetings of ETSI TC ITS and the working groups were very successful with a lot of good results.
The European Norm (EN) on the access network for the 5.9 GHz band was approved for national voting.
The European Norm (EN) on the Cooperative awareness service (CAM), was approved for the EN Approval process (ENAP).

In addition the TC ITS approved 4 Technical Specification for publication.
A total of 17 new work items across the work groups were approved.

Finally the TR 101 607 v1.1.1 listing the ETSI TC ITS standards for Release 1 was approved for publication. The Release 1 standards are related to the standards required within the European Commission Mandate M/453, which has now been finalized. The Release process within ETSI TC ITS has been subject to consultation with stakeholders and discussed at the ETSI TC ITS workshop in Vienna, February 2013 with more than 140 participants from automobile as well as infrastructure industry and stakeholders.
ETSI TC ITS has initiated development of a Release 2 process where standards should be based on expected features and functionalities for the next deployment phase of cooperative ITS. This process will also be subject to a consultation process before adopted.

Since last meeting the following standard had been adopted in TC ITS by remote consensus:
TS 103 097 V1.1.1 Security Header and Certificate Formats

During the ETSI TC ITS meeting in Sophia Antipolis the following standards and technical specifications (TS) were approved:
Application requirements and facility layer standards
EN 302 637-2 Specification of Cooperative Awareness Basic Service (CAM) for ENAP
TS 101 539-1 Road Hazard Signaling (RHS) application requirements specification for publication
TS 102 869-1 Conformance test specification for DENM (PICS).
TS 102 869-2 Conformance test specification for DENM (TSS&TP).
TS 102 869-3 Conformance test specification for DENM (PIXIT).
Media and media related issues.
EN 302 663 Access layer specification for ITS operating in the 5 GHz band for National voting.
Other issues
The following Specialist Task Forces are still ongoing
STF 447 GeoNetwork media dependent functionalities
STF 448 Local Dynamic Maps
STF 449 Maintenance of test for CAM-DENM-BTP-GeoNet-IPv6
STF 452 Test platform for security
STF 455 Test platform for Bounded, Secure Managed Domain (BSMD)
A new STF proposal on cross layer DCC is still awaiting agreement with the European Commission.

ETSI TC ITS also approved a proposed ToR for a new STF on Maintenance of Conformance Validation Framework.

The meeting was informed about the next Interoperability event planned for 25-29 November 2013 and covering CAM, DENM, GeoNetworking and Security tests as well as regulatory testing.

ETSI TC ITS is currently developing 90 work items.

ETSI TC ITS agreed to further increase the efficiency of the standards development within the working groups.

ETSI TC ITS agreed to arrange the next ETSI TC ITS workshop at ETSI in Sophia Antipolis
12-13 February 2014.
Meeting plan for ETSI TC ITS and working groups in 2013
ITS WG meetings 17-21 June 2013
ETSI TC ITS and working group meetings 21-25 October 2013
ITS WG meetings 13-17 January 2014
ETSI TC ITS and working group meetings 31 March – 4 April 2014

We will provide more details at the European ITS Congress in Dublin 4-7 June 2013.
ETSI's newsletter on ITS - free subscription!
If you are interested in the work done related to Intelligent Transport Systems, you are kindly invited to subscribe to ETSI's newsletter on ITS standardization activities. Information about ITS activities is posted regularly.
To subscribe to ETSI's newsletter on ITS standardization, follow this link, please:
Join ITS-NEWS
The following is a list of recently published and frequently downloaded standards. Please use the ETSI Work Programme to find further related standards.
| Standard No. | Standard title. |
| --- | --- |
| TS 103 191-1 | Intelligent Transport Systems (ITS); Testing; Conformance test specifications for Signal Phase And Timing (SPAT) and Map (MAP); Part 1: Test requirements and Protocol Implementation Conformance Statement (PICS) pro forma |
| TS 103 191-2 | Intelligent Transport Systems (ITS); Testing; Conformance test specifications for Signal Phase And Timing (SPAT) and Map (MAP); Part 2: Test Suite Structure and Test Purposes (TSS & TP) |
| TS 103 191-3 | Intelligent Transport Systems (ITS); Testing; Conformance test specifications for Signal Phase And Timing (SPAT) and Map (MAP); Part 3: Abstract Test Suite (ATS) and Protocol Implementation eXtra Information for Testing (PIXIT) |
| TR 101 613 | Intelligent Transport Systems (ITS); Cross Layer DCC Management Entity for operation in the ITS G5A and ITS G5B medium; Validation set-up and results |
| TS 103 096-1 | Intelligent Transport Systems (ITS); Testing; Conformance test specifications for ITS Security; Part 1: Protocol Implementation Conformance Statement (PICS) |
| TS 103 096-2 | Intelligent Transport Systems (ITS); Testing; Conformance test specifications for ITS Security; Part 2: Test Suite Structure and Test Purposes (TSS & TP) |
| TS 103 096-3 | Intelligent Transport Systems (ITS); Testing; Conformance test specifications for ITS Security; Part 3: Abstract Test Suite (ATS) and Protocol Implementation eXtra Information for Testing (PIXIT) |
| TR 103 061-6 | Intelligent Transport Systems (ITS); Testing; Conformance test specifications for ITS Security; Part 6: Validation report |
| TS 102 868-1 | Intelligent Transport Systems (ITS); Testing; Conformance test specifications for Cooperative Awareness Basic Service (CA); Part 1: Test requirements and Protocol Implementation Conformance Statement (PICS) pro forma |
| TS 102 868-2 | Intelligent Transport Systems (ITS); Testing; Conformance test specifications for Cooperative Awareness Basic Service (CA); Part 2: Test Suite Structure and Test Purposes (TSS & TP) |
| TS 102 868-3 | Intelligent Transport Systems (ITS); Testing; Conformance test specifications for Cooperative Awareness Basic Service (CA); Part 3: Abstract Test Suite (ATS) and Protocol Implementation eXtra Information for Testing (PIXIT) |
| TS 102 869-1 | Intelligent Transport Systems (ITS); Testing; Conformance test specifications for Decentralized Environmental Notification Basic Service (DEN); Part 1: Test requirements and Protocol Implementation Conformance Statement (PICS) pro forma |
| TS 102 869-2 | Intelligent Transport Systems (ITS); Testing; Conformance test specifications for Decentralized Environmental Notification Basic Service (DEN); Part 2: Test Suite Structure and Test Purposes (TSS & TP) |
| TS 102 869-3 | Intelligent Transport Systems (ITS); Testing; Conformance test specifications for Decentralized Environmental Notification Basic Service (DEN); Part 3: Abstract Test Suite (ATS) and Protocol Implementation eXtra Information for Testing (PIXIT) |
| TR 103 099 | Intelligent Transport Systems (ITS); Architecture of conformance validation framework |
| TS 102 871-1 | Intelligent Transport Systems (ITS); Testing; Conformance test specifications for GeoNetworking ITS-G5; Part 1: Test requirements and Protocol Implementation Conformance Statement (PICS) pro forma |
| TS 102 871-2 | Intelligent Transport Systems (ITS); Testing; Conformance test specifications for GeoNetworking ITS-G5; Part 2: Test Suite Structure and Test Purposes (TSS & TP) |
| TS 102 871-3 | Intelligent Transport Systems (ITS); Testing; Conformance test specifications for GeoNetworking ITS-G5; Part 3: Abstract Test Suite (ATS) and Protocol Implementation eXtra Information for Testing (PIXIT) |
| TS 102 792 | Intelligent Transport Systems (ITS); Mitigation techniques to avoid interference between European CEN Dedicated Short Range Communication (CEN DSRC) equipment and Intelligent Transport Systems (ITS) operating in the 5 GHz frequency range |
| TS 103 175 | Intelligent Transport Systems (ITS); Cross Layer DCC Management Entity for operation in the ITS G5A and ITS G5B medium |