Public Safety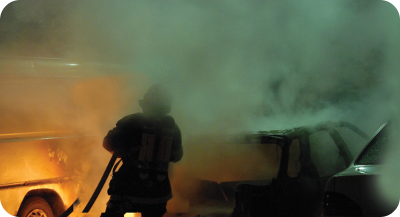 Communication systems and services for public safety
Mission-critical communications to rely on at all times
Facilitating emergency communications for authorities, public safety users and citizens
Communication is a key factor in an emergency situation, which may range from a minor incident (e.g. traffic accident) to a major incident such as a passenger train crash, a terrorist incident, a chemical spillage or a natural disaster (e.g. an earthquake or tsunami).
ETSI and 3GPP (a collaborative project between standards organizations worldwide, including ETSI, that develops specifications for advanced mobile communication technologies) work on a comprehensive set of standards and interoperability tools to enable communications in the case of emergency situations.
The activities of ETSI and 3GPP cover the scenarios to be considered for communication from authorities to citizens (and reciprocally), between authorities and amongst citizens. Emergency communications cover all communication systems and services including all media possibilities such as voice and non-voice, data, location etc.
The standardization work is based on use cases that are defined by Public Safety users (including fire and rescue services, ambulances, police and Public Safety Answering Points (PSAP)), industry, operators and regulators from all over the world.
ETSI groups in the Public Safety cluster:
EMTEL (Emergency Communications)
ERM (EMC and Radio spectrum Matters) Task Group 26 (Maritime and radio amateur activities)
ERM (EMC and Radio spectrum Matters) Task Group DMR (Digital Mobile Radio)
MSG (Mobile Standards Group)
NFV (Network Functions Virtualisation)
NTECH (Network technologies)
RRS (Reconfigurable Radio Systems) Working Group 4 (Public safety)
SES (Satellite Earth Stations & Systems) SatEC Working Group (Satellite Emergency Communications)
TCCE (TETRA and Critical Communications Evolution)
EMTEL is an ETSI Special Committee that identifies the European operational and technical requirements of those involved in the provision of emergency communications.
In addition, the cluster includes the work of 3GPP in areas such as priority use of the public network, public warning systems, and the use of Long Term Evolution (LTE) mobile systems for critical communications.
The Public Safety cluster also co-operates with various fora, consortia and organizations including the European Emergency Number Association (EENA), the PSC Europe Forum, IETF-ECRIT, ITU-T, COCOM EGEA (European Commission Expert Group on Emergency), OASIS (Organization for the Advancement of Structured Information Standards), TCCA (TETRA and Critical Communications Association), GSMA (GSM Association), and the DMR Association.
ETSI is leading the Global Standards Collaboration (GSC) Task Force on Emergency Communications that has produced a comprehensive report covering the four emergency scenarios listed above and regulatory aspects in different regions, and ensure its maintenance.
Terrestrial Trunked Radio (TETRA) and Critical Communications
TETRA is a digital trunked mobile radio standard developed to meet the needs of traditional Professional Mobile Radio (PMR) user organizations, standardized by our TETRA and Critical Communications Evolution committee (TC TCCE).
TETRA is a narrow-band technology. Today, activities are ongoing to include broadband capabilities which will offer significantly improved potential for critical communications. This work will enable creation of new features and the further development of already existing services like:
high bandwidth services such as streaming video
automatic number plate recognition
location services and database access
allowing a more integrated approach to Public Protection and Disaster Relief (PPDR) command and control systems.
TETRA is still the leading technology choice for critical communications users. Looking to the future, it is expected to evolve into a fully integrated and seamless Information and Communications Technologies solution, providing narrowband/wideband/broadband wireless communications for mission-critical and business-critical Professional Mobile Radio applications. Broadband will be central to this, enabling the high data speeds needed for key applications such as streaming video from the scene of an incident.
Our TETRA and Critical Communications Evolution committee (TC TCCE) is focusing particularly on standardizing a broadband extension to TETRA.
To minimize the work required, we are enhancing existing standards for technologies, such as LTETM and 5G, by the development of interfaces and applications, to make them suitable for mission-critical applications.
We are revising our Technical Report (TR) on user requirements for mission-critical broadband communications to add more detail on interworking between the Critical Communications Application and TETRA and on the migration of services from TETRA to LTE.
We are collaborating with the Alliance for Telecommunications Industry Solutions (ATIS) in the US to ensure our specifications are aligned. We are revising our original Inter-System Interface (ISI) European Standard (EN) to take account of the introduction of Internet Protocol (IP)-based networks, dividing the content into several new parts to produce a family of specifications for IP, circuit switched and transport layer-independent networks.
We expect to complete a revision of our series of specifications on interworking at the ISI between two TETRA systems, which will add the transport of TETRA voice over IP. We are working on a Technical Specification (TS) for an interworking interface architecture between TETRA and critical communications applications running on broadband networks. Work is ongoing on a set of TSs defining the mobile to network interface architecture of a critical communications application operating over a broadband IP interface. We will update part 2, on the network architecture, and we will complete a new part 3, on the network interface specification. These specifications will provide input for the work of the Third Generation Partnership Project (3GPPTM) critical communications group, SA6.
Security is also a priority topic. We are studying security mechanisms for mission-critical broadband systems for an underlying broadband system (such as LTE) as well as for applications providing mission-critical services, including group call and Direct Mode services. We have also started a new TR on security issues and mechanisms for interworking between TETRA and critical communications applications running on broadband networks. At the same time we continue to maintain the existing TETRA standards and we plan to publish a TR on the addition of voice services to the TETRA Enhanced Data Service (TEDS) channels to improve spectral efficiency.
3GPP's SA6 working group on critical communications continues work on support for critical communications features in LTE Advanced Pro. The Release-13 specifications already include Mission Critical Push To Talk (MCPTT) with features such as group calling, proximity services and device to device connectivity. Release-14 extends on these features with the addition of video (MCVideo) and data capabilities to the MCPTT architecture (MCData). Other areas of focus are interworking between LTE mission critical systems and non-LTE systems, such as systems compliant with P25, TETRA and legacy Land Mobile Radio (LMR) and interconnection and migration between Mission Critical systems.
Emergency calling and Alerting
Our Emergency Telecommunications committee (SC EMTEL) has addressed 'Total Conversation', which uses a combination of video, real-time text and audio to give people with hearing or speaking disabilities the same level of access to emergency services as able-bodied people, in accordance with the Citizens' Rights Directive.
EMTEL will continue to focus particularly on caller location, alerting, emergency applications for smartphones and networks dedicated to emergency services.
A report has been produced on Advanced Mobile Location (AML) for emergency calls, a system transmitting the caller's location to the public safety answering point (PSAP) during the emergency call. This is a clear improvement on the current cell ID localization. Several handset manufacturers have already deployed AML. Caller location is key in emergency calls and is also part of the ETSI answer to EC Mandate M/493. An architecture for emergency service caller location determination and transport is already developed and protocols based on this architecture are being defined in NTECH.
In the domain of alerting/public warning, EMTEL has developed a TR defining dictionaries which will enable alerting messages to be encoded from keywords, or even generated automatically, and then decoded in the receiver into the user's preferred language. Further work is expected to specify the alerting libraries to be used for public warning.
With hundreds of emergency calling applications in use across Europe, but with a usage constrained to the boundaries of the PSAP they are integrated with, EMTEL felt the necessity to develop a specification defining the requirements, functional architecture and procedures for implementing a Pan-European Mobile Emergency Application (PEMEA).
EMTEL will also describe in a report the core elements and corresponding technical interfaces for network independent access to emergency services.
Satellite Emergency Communication
The Satellite Emergency Communication Working Group (SES SatEC) of ETSI's Satellite Earth Stations & Systems Technical Committee (TC SES) performs standardization in the area of satellite emergency communication, in particular involving broadband services. The group is working with scenarios dealing with the set-up of a temporary emergency communication cell based on WiFi, VHF/UHF, WIMAX, GSM or TETRA which is then linked/backhauled to the permanent infrastructure by means of a bi-directional satellite link.
Other Aspects of Public Safety Standardization
Other work includes acoustic safety limits, standards for maritime safety equipment and various mechanisms for road safety through the use of Intelligent Transport Systems.