3rd ETSI TC ITS WORKSHOP
The 3rd ETSI TC ITS Workshop, organised by ETSI was kindly hosted by Telecom Italia in its Future Centre in Venice. The event took place on 9-11 February 2011.
More than 140 delegates from all over the world participated to this event.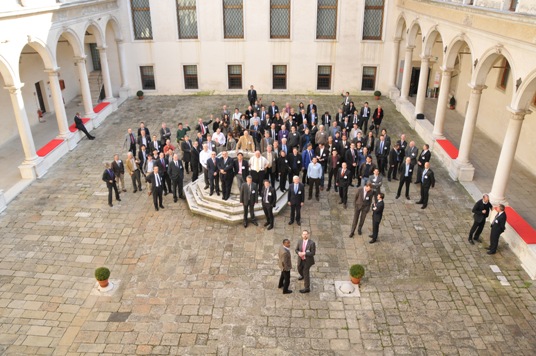 SESSION 1: KEYNOTES and DISCUSSION ON ITS
Welcome Address
Walter Weigel, ETSI Director-General
Importance of the ITS Directive
Gzim Ocakoglu, Head of Section - ITS, DG MOVE European Commission
Standardization activities of SAC/TC268
Dr. Qi Yang, SAC TC 268 Secretary
Role of the automotive industry in standardization activities and the business perspective of Cooperative Systems
Prof Dr Ralf Guido Herrtwich, Daimler AG, Director Driver Assistance and Chassis Systems, Group Research and Advanced Engineering
Cooperative services as a global business opportunity
Russel Shields, co-founder and Chair of Ygomi LLC
Deployment of cooperative systems and the importance of global harmonisation
Dr Hermann Meyer, ERTICO – ITS Europe, Chief Executive Officer
SESSION 2: PANEL DISCUSSION: THE MANDATE ON COOPERATIVE ITS AND HOW TO ACHIEVE THE GOALS
Moderator: Martin Arndt, ETSI, TC ITS Technical Officer
The Mandate 453 on Cooperative ITS addresses the technical standardization need for the deployment of interoperable cooperative systems and beyond. This session reports on the progress made in 2010 as well as providing an outlook to the 2011 activities, and will discuss the best way to contribute to the activities foreseen in the mandate.
Panellists:
Emilio Castrillejo, European Commission DG ENTR
Emilio Dávila González, European Commission DG INFOSOC
Hans Joachim Schade, Convenor CEN/TC278/WG16 and ISO/TC204/WG18
Soeren Hess, ETSI TC ITS Chairman
SESSION 3 : PANEL :THE GLOBAL DEPLOYMENT OF COOPERATIVE SYSTEMS
Moderator: Soeren Hess, ETSI TC ITS Chairman
Within the frame of high level agreements between the European Union, US Department of Transportation and the Japanese communication ministries on global activities to harmonize standardisation and cooperative ITS applications as well as a roadmap for deployment, this high level managers round table will provide the latest news on the global activities and discuss the way forward to achieve global interpretability for cooperative ITS when implemented and deployed in a few years.
SESSION 4 : COOPERATIVE SYSTEMS - USE CASES, APPLICATIONS, SERVICES and INTEGRATION
Moderator: Gérard Ségarra, Renault, ETSI TC ITS WG1 Chairman
Cooperative systems aim to warn and assist people while on the move, safety applications to reduce accidents and increase traffic efficiency and sustainable driving. The usage of local dynamic maps and environmental notifications can also provide for location based services and information. This includes information where a free car-park is available, what the prices look like at the next petrol station, to pay your road toll electronically and which waterbus you have to take to reach this workshop's location. This session intends to answer questions like: How does both safety information and location based services get fed to the cooperative systems network or will location based services be provided by Smart Phones? Is it required to classify and manage that information flow in a standardized way? How does one know what type of information is available at a given location? Are international aspects considered satisfactory, e.g. information is provided in your desired language even when abroad? Has standardization addressed this already? What research activities are going on here?
ETSI TC ITS WG1 standardization activities
Lan Lin, Hitachi, Researcher, ETSI TC ITS WG1 Vice Chairman
Liaison between ETSI TC ITS WG1 & ISO TC204 WG14 on Cooperative System Application
Yousuke Akatsu, Senior Staff, Nissan Motor Co., LTD.
The Traffic and Travel Information Chain and Integration With Co-operative Systems
Jonathan Harrod Booth, Harrod Booth Consulting (for CEN TC 278)
Study on the Service for Collecting & Providing Vehicle Information in Korea
Sanghyun Lee, Researcher, ITS Korea
SCORE@F>, the French FOT for road co-operative systems
Gérard Ségarra, Telematics Research Manager, RENAULT SAS, ETSI TC ITS WG1 Chairman
SESSION 5 CONNECTIVITY VERSUS TECHNOLOGY
Moderator: Christoph Wöste, Bundesnetzagentur, ETSI TC ITS WG4 Chairman
Having been published in summer 2010 the standard IEEE 802.11p (Wireless Access for the Vehicular Environment) is a long standing candidate for becoming widely accepted as the physical layer standard for cooperative systems communications. However, alternative access methods such as Self-organising Time Division Multiple Access (STDMA) as well as the usage of other radio technologies such as LTE TDD are still being discussed. This session tries to find out if a convergence for a specific technology is already present. Furthermore, it should become clear what commitments the silicon makers can do. What is the easiest implementation, what the most difficult one? Is there a trade-off between those aspects?
ETSI TC ITS WG4 standardization activities
Achim Brakemeier, Daimler AG, ETSI TC ITS WG4 Vice Chairman
Cooperative Intelligent Transport Systems: 5.9 GHz Field Trials
Dr. Paul Gray, Chief Executive Officer, Cohda Wireless
Sticking to decision versus risking deployment
Onn Haran, Chief Technical Officer, Autotalks LTD
Towards a true cooperative ITS
Enrico Brancaccio, Manager, Ericsson Telecomunicazioni S.p.A.
Possible migration path from CSMA towards a STDMA based
Katrin Sjoberg, Halmstad University, Sweden
SESSION 6 INSIDE ARCHITECTURE, OUTSIDE ARCHITECTURE
Moderator: Knut Evensen, Q-Free, ETSI TC ITS WG2 Chairman
In September 2010 the standard ETSI EN 302 665 specifying the ITS Communications Architecture has been published. Although the architecture has been designed in a modular way that allows flexible usage and implementation it is still required to harmonize the internal interfaces between the modules and the interfaces to the external world. This session examines to which extent cross layer harmonization is required. What elements do really need a streamlined approach? What efforts are necessary to achieve a common understanding when connecting to the external world and vice-versa? Is standardization taking this into account? What are the relations to ITS service and application providers? Can legacy ITS systems be integrated seamlessly?
ETSI TC ITS WG2 standardization activities
Hans Joachim Fischer, Fischer Tech, ETSI TC ITS WG2 Vice Chairman
What Deployment Architecture for Europe?
Paul Kompfner, Head of Sector, ERTICO – ITS Europe
ITS Standardization - Focused or Visionary
Lindsay Frost, Chief Standardization Engineer, NEC Laboratories Europe
ETSI TC ITS WG5 standardization activities
Scott Cadzow, Cadzow Consulting, ETSI TC ITS WG5 Chairman
SESSION 7: WOULD YOU BE MY VALENTINE?
Moderator: Hans Schade Hans-Joachim, Convenor CEN/TC278/WG16 and ISO/TC204/WG18
The European Commission mandate on Cooperative Intelligent Transport Systems requires the synchronization among the European Standards Organizations on one hand, on the other hand it recommends to collect feedback from stakeholders affected by that standardization work. This session intends to verify if all the bits and bytes of standardization fit to each other, to identify shortcomings and potential show-stoppers and to find proposals for challenging standardization issues. In addition, the session offers the possibilities to present topics that should be considered by standardization additionally.
Motorway operator's expectations towards ITS co-operative systems standardization
Jacques Boussuge, Director Operations, ASECAP/ASFA
The EasyWay project and its Cooperative Systems Task Force
Wolfgang Kernstock, Project Manager, AustriaTech – Federal Agency for Technological Measures Ltd.
Introduction to the DRIVE C2X Integrated Project
Maxime Flament, Head of Sector, ERTICO – ITS Europe
Standardization of ITS Networking and Data Transport Protocols in ETSI TC ITS: Quo Vadis?
Andreas Festag, NEC Europe Ltd., ETSI TC ITS WG3 Chairman
Testing of CAM, DENM and GeoNetworking protocols
Sebastian Müller, Testing Expert, ETSI Centre for Testing and Interoperability (CTI)
SESSION 8 : INTERNATIONAL ITS STANDARDIZATION
Moderator: Soeren Hess, ETSI TC ITS Chairman
Since it has become clear that there is willingness and need for harmonizing Cooperative ITS standards this session intends to show the progress that has been made so far and to identify those who want to contribute to this common global objective indeed.
Current Status of Institutionalization and Strategy for Standardization of ITS in Japan
Tomoharu Suzuki, Ministry of Internal Affairs and Communications (MIC) Japan
Activities on Standardization in Japan and International Harmonization
Takeshi Yamamoto, NEC, Expert,/Chair, Vehicle Communication Systems (VCS) International WG, ITS Info-Communications ForumITS distributed road side infrastructure and standardization needs
ITU-R and APT activities on ITS radiocommunications
Satoshi Oyama, Senior Manager, Road Transport Systems Dept., Hitachi Ltd
ITS Communication Security Standardization and Harmonization
Thomas M. Kurihara, IEEE VTS/ITS 1609 WG Chair, TKstds Management
Cross-SDO coordination efforts for ITS Station Architecture in Cooperative Systems
Knut Evensen, VP Technology, Q-Free, ETSI TC ITS WG2 Chairman