Industry Specification Groups (ISG)
Definition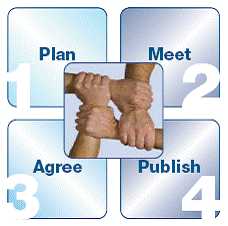 Industry Specification Groups exist alongside the current Technical Organization supplementing the existing standards development process. An Industry Specification Group, supported by Working Groups where appropriate, is an activity organized around a set of ETSI work items addressing a specific technology area.
By their nature ISGs (Industry Specification Groups) offer a very quick and easy alternative to the creation of industry fora, and are focused on a very specific activity. Yet they do have their own membership, which may consist of both ETSI Members and Non-members (under certain conditions), they have their own voting rules, they decide their own work programme, and approve their own deliverables. All ETSI Members have access to the ISG working documents.
Advantages - services
The basic advantages of an ETSI Industry Specification Group (ISG) are:
Quick approval - it needs a proposal from four ETSI Members and approval by the Director-General.
The founding members shall propose a specific 'ISG agreement' which will be binding on all the ISG members and will typically cover a statement of support for the work to be performed; any variations which will apply with respect to the 'normal' rules will be raised.
Instant operational-pack - the standard ETSI Technical Working Procedures apply unless otherwise agreed by the ISG members and the Director-General. The ISG may draft and approve ETSI Group Specifications (GS) which will be published by ETSI.
Quick setup - it gets immediate 'basic administrative support' provided by the existing ETSI infrastructure and provided from normal ETSI Budget, e.g.:


meeting rooms in ETSI premises
meeting support for invitations, badges, etc
tea/coffee in ETSI premises
ISG info/meeting/document handling area on the ETSI Portal
document storage area on the ETSI DOCBOX server
entry of the ISGs Work Items into the WPM database
processing/publication of GSs (providing they have respected the ETSI Drafting Rules)
The ISG may purchase additional support from the ETSI Secretariat (the ISG members have to agree amongst themselves how to raise the money), e.g.:
Technical Officer support
Meeting Secretary support
Technical Editing
Rapporteurship
Legal issues
ETSI IPR Policy applies. The starting point philosophy is that the ISG is created by a group of ETSI members and the ETSI IPR Policy applies. If the ISG decides to admit non-Members then they must also sign-up to the ETSI IPR Policy (this is not negotiable).
Existing ISGs
Previous ISGs
Autonomic network engineering for the self-managing Future Internet (AFI)
Identity management for Network Services (INS)
Measurement Ontology for IP traffic (MOI)
Mobile Thin Client Computing (MTC)
Open Smart Grid (OSG)

Download the Quantum Key Distribution (QKD), Identity and access management for Network Services (INS) and Information Security Indicators (ISI) technology leaflets.
To find out how an ETSI ISG can help drive your business forward, contact isg@etsi.org